Fianna Fáil Councillor, John Paul Feeley has welcomed commencement of work on the extension of the Market House in Blacklion to become the main Interpretive Centre for the UNESCO Marble Arch Global Geopark.
'A great deal of work has been done by Cavan County Council and Killinagh Community Council to get this project to this stage, firstly to secure the Market House for public use and to develop plans to extend the premises for use as an Interpretative Centre for the Geopark.'
The two storey extension will include audio-visual displays, information panelling and will also extend the existing tourist information centre and gift shop which has been operated by Killinagh Community Council for the last number of years.
'This project has involved close cooperation between Cavan County Council and Killinagh Community Development Ltd. Cavan County Council has been responsible for the design work, the tendering process and will supervise construction. Both have made a substantial financial contribution to the project with the bulk of the approximately € 200,000 to be spend on this project. In bringing the project to this stage, John Branigan Senior Engineer and Jack Keyes, County Manager I ager and John Toland of Cavan Monaghan LEADER have played a key role. As Secretary of Killinagh Community Development Limited and as the local councillor I thank them for their work todate.'
'This project will made the Geopark much more concrete for the local community and hopefully increase the number of visitors coming to Blacklion and using the area as a base for exploring the Geopark. Visitor numbers continue to grow and it is hoped that they will grow dramatically in the coming years,' Concluded Councillor Feeley.
It is hoped that the building will be ready for use by the end of this year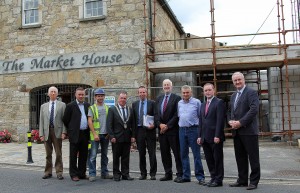 Lorraine Teevan Photography